SRI Director -
Eduard Raul Hellvig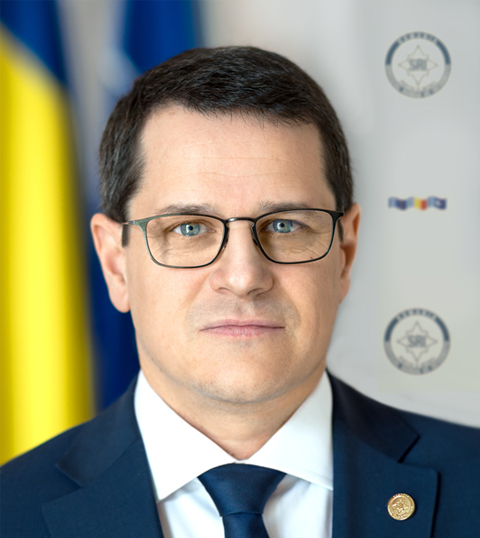 As per Resolution no. 15 of the Romanian Parliament, on March 2nd, 2015, Eduard Raul Hellvig was appointed the 5th Director of the Romanian Intelligence Service.
Eduard Raul Hellvig graduated from the College of Political Science and Public Administration within the Babes-Bolyai University in Cluj-Napoca in 1997. He gained a PhD in Political Science at the National University of Political Studies and Public Administration in Bucharest (2009).
He substantiated his academic background in the field of security studies by attending the National Defense College at Carol I National Defense University (2005-2006) and the Program on Terrorism and Security Studies (PTSS) organized by George C. Marshall European Center for Security Studies in Garmisch-Partenkirchen, Germany (2006).
He was elected MP in the 2004-2008 parliamentary legislature, serving as secretary of the Committee on Defense, Public Order, and National Security (October 2005 - September 2008) and member of the Romanian Delegation to the NATO Parliamentary Assembly (Subcommittee on Security). After Romania's accession to the European Union, he became one of the first Romanian MEPs (January 1st - December 9th, 2007).
In 2012 he was appointed Minister of Regional Development and Tourism, and subsequently won another MP seat following parliamentary elections at the end of the same year. During this term, he served as Vice-President of the Chamber of Deputies (December 2012 - September 2013) as well as member of the Committee on Foreign Policy (until February 2013), Committee on European Affairs (starting with February 2013) and the Romanian Delegation to the NATO Parliamentary Assembly (December 20th, 2012 - September 3rd, 2013).
His MP mandate ended on September 3rd, 2013, as he was re-elected member of the European Parliament (September 2013 - June 2014). He was reconfirmed as MEP in the elections held in May 2014, but decided to give up his seat after being validated as Director of the Romanian Intelligence Service by the Romanian Parliament.
He speaks English fluently.
He was born on October 27th, 1974 in Zalau, Salaj County. He is married and has one child.