Eduard Hellvig - Speech at Babeș-Bolyai University 15 years of Intelligence Studies
04 October 2022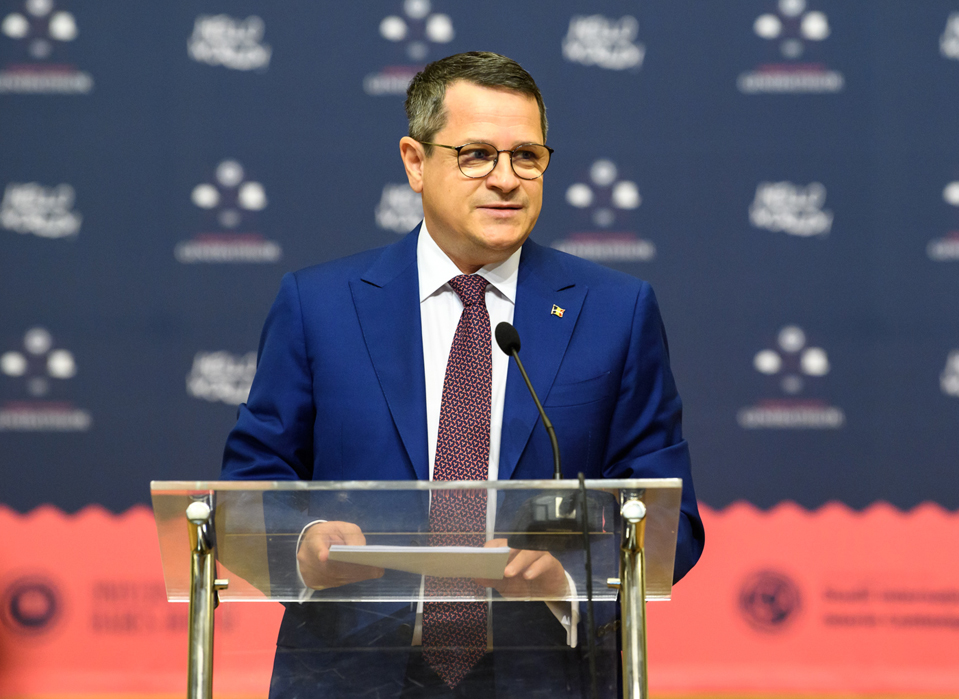 On October 4th, 2022, the SRI Director was present in the aula of the Babeș Bolyai University in Cluj Napoca. Eduard Hellvig gave a speech on the 15th anniversary since the start of the security studies programs in the prestigious Transylvanian university that he graduated from.
On this occasion, the SRI Director received from the Senate of the University the honorary diploma of UBB, as a constant promoter of academic values and standards of professional integrity.
In his speech, held before the UBB students, the SRI Director referred to the way in which the Romanian society has transformed during the last three decades, emphasizing the total change in the operating paradigm of the Romanian Intelligence Service throughout this entire period: "This institution is a good example of slow but decisive transformation, of gradual but sustainable modernization, of crossing a threshold of evolution, beyond which we no longer speak of improvisation and logjam in practices of the past, but of innovation and high-level performance."
The freedom and democracy gained after 1989 should inspire the young and the not-so-young to fight for the values they believe in and which should constantly animate them. The SRI Director urged the students to firmly stand for the things they believe in, and not make any kind of compromise on their own conscience.
The telling example chosen by Eduard Hellvig was that of the harmful influence that the former Securitate had on people's consciences and on the historical truths. This is the reason why the Romanian Intelligence Service is the only institution in Romania that handed over to CNSAS all the archives inherited from the communist institutions. Moreover, within SRI, there are special education programs on democratic norms in a modern state: "We also encouraged the organization of courses on totalitarianism so that our officers would learn, from the beginning, what the horrors of the abuses were during the communist dictatorship."
Facing the current challenges, now more than ever, SRI also needs new legislation to define its role, attributes and responsibilities in a modern way, in line with the norms applicable in countries with a long-standing democratic tradition: "We will only strengthen democracy when we had prompted each institution to assume its own mandate, without abuses and without excesses. (...) We want updated legislation, but we want it to be as close as possible to the Western model."
The Speech delivered by SRI Director, Mr. Eduard Hellvig at Babeș Bolyai University